Schagerl has arrived in New Zealand! They really need little introduction. Most professional orchestras in the world own a set of Schagerl rotary trumpets, and with artist the likes of Thomas Gansch and James Morrison it is clear the company attracts the top artists of the world. Schagerl's drive is clear, 'in quality we trust'. With this focus artists want to be involved and, to be honest, so do we. It is with great pleasure that we start a partnership with Schagerl in this part of the world. They are a brand where quality is king and the product speaks for itself. Dont listen to someone talk about them, try one and you will understand no matter what level you play at.
It all begins with the Ferrari; The Meister Range of Artist instruments.
These instruments are the top shelf of brass artistry available. To hold you can feel the quality, and to hear; even an untrained ear can hear the difference instantly. They serve as proof of the companies genuine drive for quality, satifying the most demanding of players. perhaps even more significantly they form the backbone of knowledge and style that goes into all other levels of Schagerl instruments.

A step-up instrument professionals would love to use; The James Morrison Schagerl Academica Range of instruments.
These instruments will revolutionise the $2000 – $5000 price bracket of horn. A step-up instrument at under $2000 that will out perform many professional instruments. enough said; try one. The JM1 is a jazz/commercial orientated instrument, the JM2 more a classical orientated instrument.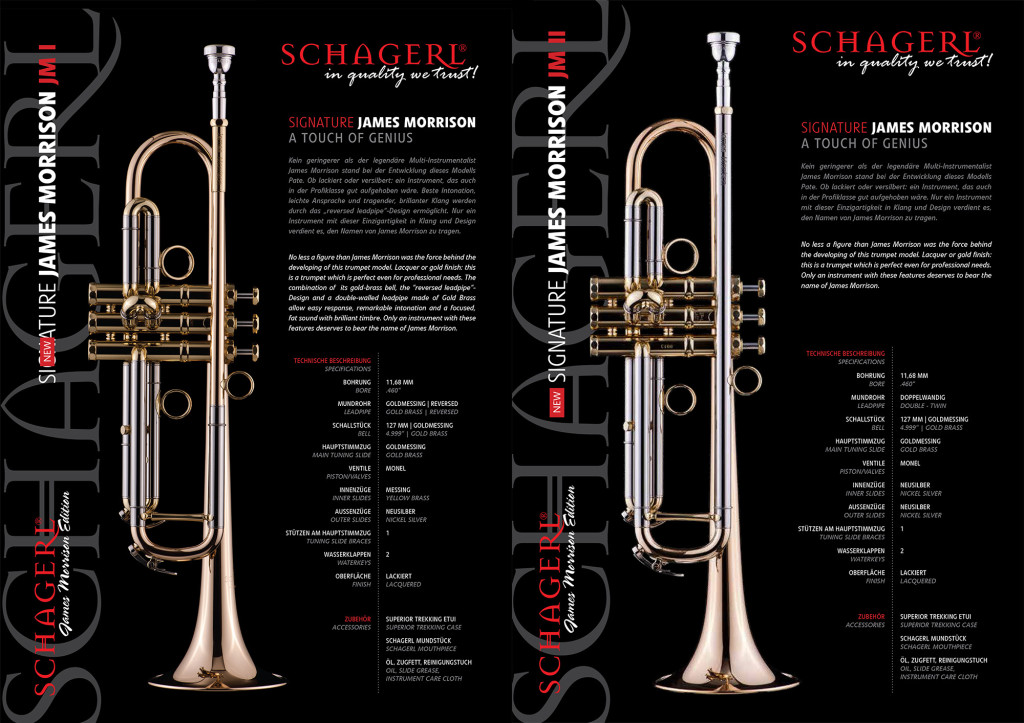 Start on the best; The Academica range of student instruments.

Schagerl Website | View all Schagerl products